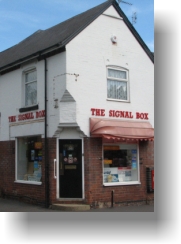 The Signal Box Model Shop
(Please note The Signal Box isn't Wolverton Rail. We are NOT the same business :-) ....although we do share the same premises in Leicester :-D)


The Signal Box model shop is located in Anstey, Leicestershire and is one of Britain's top model railway shops. It has also won the Bachmann's Retailer of the Year award. Founded by Malcolm Godfrey in the 1980s it previously operated from two Leicestershire locations in Oadby and Coalville before relocating to Anstey. The VHS Video and then DVD part of the business was built up by Maureen Godfrey until it became Britain's largest wholesale supplier.
In 2005 Malcolm and Maureen retired and their friends Martin and Judith Smith took over. Martin has always been interested in railways and brings enthusiasm and knowledge to the business to provide an excellent customer service to modellers and railway enthusiasts. The DVD business was run by Judith Smith until she retired in April 2013 when that part of the business was sold to WOLVERTON RAIL (see later section). We had been a trade customer of theirs since 1988, were one of their largest customers and it was an ideal fit! THE SIGNAL BOX continues to sell our full range of DVDs :-).
THE SIGNAL BOX carries a wide and comprehensive stock of model railway and modelling equipment for railway modellers in '00' , 'N' , 'G' gauges and others from all major suppliers including Hornby, Bachmann, Peco, Dapol, Farish and many others. Plus a constantly changing large range of secondhand locomotives all of which are serviced prior to sale and carry a six month warranty. THE SIGNAL BOX is always happy to supply these mail order (contact by phone). The shop also offers an on-site repair service and decoder fitting service for rolling stock.
With over five members of staff, Martin's model shop provides a helpful and friendly welcome for anyone visiting the shop.
OPENING HOURS: Mon-Fri 0930 to 1700, Sat 0930-1700, Sun Closed.ADDRESS: THE SIGNAL BOX LTD, 1 Albion Street, Anstey, LEICESTER, LE7 7DDTEL: 0116 236 2901 (answerphone outside opening hours)EMAIL: info@the-signal-box.com.PLEASE NOTE: THE SIGNAL BOX LTD in Anstey (Leicester) has no connection or otherwise with any other business or businesses with similar names operating or formerly operating in the UK.
WOLVERTON RAIL has no financial connection with THE SIGNAL BOX LTD and Wolverton Rail operates as a "shop-in-shop" at Anstey!


The Signal Box DVD business and WOLVERTON RAIL
A bit more about.......

For many years, THE SIGNAL BOX LTD was Britain's leading railway dvd specialists and stocked literally thousands of high quality titles. As well as many retail customers, Signal Box supplied many trade customers such as railway centres throughout the country as well as overseas.However, in early 2013 Judith Smith wanted to retire, and the DVD division was sold to WOLVERTON RAIL. But it's in safe hands! WOLVERTON RAIL was established in 1987 and has been a major customer and friend of THE SIGNAL BOX since 1988! so definitely business as usual!WOLVERTON RAIL continued to operate the Anstey office until 2020 as a branch office using the same staff as before.. except for Judith who has been enjoying a well earned retirement!! :-D However, in 2020, the whole world changed as a result of the Coronavirus (COVID19) Pandemic. The UK Government introduced restrictions including lockdowns and temporary closure of non-essential shops. So to carry on, all WOLVERTON RAIL operations were consolidated into the OLNEY office with just our "shop-in-shop" remaining at THE SIGNAL BOX and supplied direct from OLNEY. And it has all been a major success!If you still prefer buy your DVDs 'off-line' and a friendly chat then please call me (WOLVERTON RAIL) using any of the phone numbers shown at the top of the website page!But please note Wolverton Rail cannot answer THE SIGNAL BOX Model Shop enquiries on any of those phone numbers. So if you have an enquiry about model railways please ring 0116 236 2901.